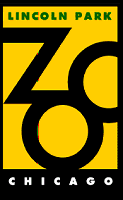 I recently had the opportunity to visit two of the most well-known zoos in the country. Both
Brookfield
and
Lincoln Park (LP) Zoo
are located in the Chicagoland area. People have their favorite, but I thought it only fair to review them based on the following categories: Location, Cost, Variety of Animals, and Staff.
(1) Brookfield - Located in Brookfield, IL, 14 miles west of downtown Chicago. Most accessible by car but there is a Metra stop a block or so away.
(2) LP - Located in Lincoln Park (the neighborhood and the actual park). Easily accessible by walking or by the 151 or 156 bus. Cabs readily available as well. Parking for those who want to drive in the city.

Winner: LP
For a city gal such as myself, LP wins hands down. I can stop by LP Zoo at my leisure, while going to Brookfield requires arranging a car ride or consulting the Metra schedule/getting to Union Station.


(1) LP - Free! Enough said. There is a cost to ride the paddleboats ($12/half hour) and Carousel ($2.00/ride)
(2) Brookfield - $10.00 - adults. $6.00 - children. They too have a Carousel, which you can ride for $2.50. They also have a good selection of special shows for additional cost. When I went last, I paid $16.00 for zoo admission plus 3 special events (with the Motor Tram including one of those events).

Winner: LP
Really. It is hard to beat free, but Brookfield is very reasonable.



(1) Brookfield - Brookfield sits on over 216 acres and boy does it use those acres well.This zoo has over 2500 types of animals. As I mentioned earlier, they also have a good variety of special exhibits, such as the Butterfly House, Dolphin Show and more. I was especially impressed by the penguins and the entire Tropic World exhibit. Tropic World is home of all the monkeys. It is massive and impressive. I love the pachyderms too!
(2) LP - This zoo is considerably smaller in side, coming in at 35 acres. They definitely do not have the variety of animals that Brookfield offers. And there weren't any pachyderms! Unless I missed them, but how can you miss an elephant? I did think that you could get up close and personal with the monkeys a lot easier that at Brookfield. While you would need a full day to cover Brookfield, LP can be visited if you only have a few hours to spare.

Winner: Brookfield
You just can't beat the vastness of Brookfield!


(1) LP - There were several opportunties where zookeepers could interact with the guests. While visiting the monkeys, my sister and I were talking to one of the zookeepers who gave us the story about the different personalities the monkeys had. Also while visiting the gorillas, we were treated to a lecture by one of the zookeepers.
(2) Brookfield - I was able to see trainers working with dolphins during the actual show. Even more entertaining, I got to see a seal training session/feeding. That was hilarious! The seals were really hamming it up. The staff was terrific in educating and showcasing their animals.
Winner: TIE!
It is so hard to pick because both zoos have wonderful staffs.
After looking at the ratings, LP Zoo won 2 of 4 categories, while Brookfield won 1 of 4. However, if I lived in the suburbs or at least had a car, Brookfield may have won that category. In the end, both zoos are wonderful in their own right. If you ever have the opportunity to go to either, do it. Be a kid for a day. It is good for your soul.